30-11-2013

Champions Unstoppable At Burt Munro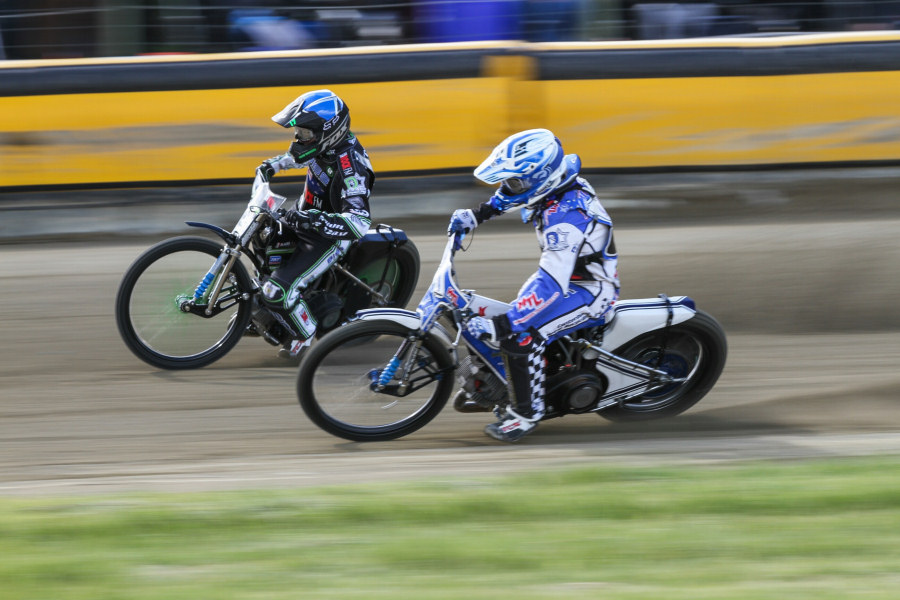 #5 Grant Tregoning leads eventual winner Dale Finch. (photo credit to

Corey Varcoe Photography)

Meeting review by Daryl Shuttleworth
A hearty crowd filled The Russell Cunningham Properties Oreti Park Speedway on Saturday night, they braved the wind and the odd heavy shower of rain, but they were witness to some of the most closely contested racing seen at the Southern circuit.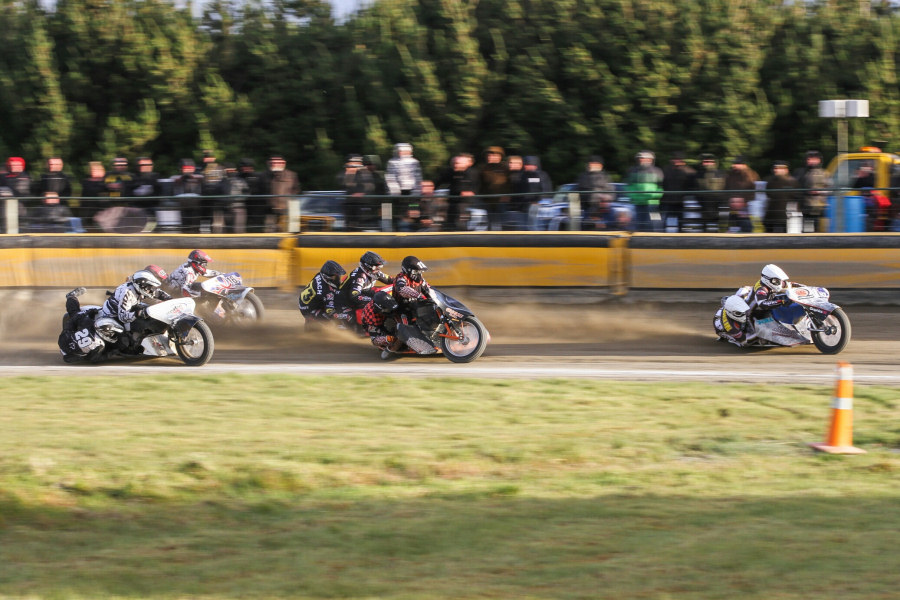 #1 Paul Humphrey and Ben Franklin head off Fraser and Jonny Gillespie and Lionel Green and Shayne Breech
(photo credit to

Corey Varcoe Photography)

National Sidecar Champions Paul Humphrey and Ben Franklin were unstoppable and showed why they are the best in the country by winning all three heats and the semi final by easy margins, as did Christchurch pairing Lionel Breech and Shayne Breech. The battle to make the semi finals was hotly contested and it was local combinations that were looking good Jason Harpur and Mark George scored a pair of wins as did Josh Heenan and Harley Biddle and last years Burt Munro Champion Fraser Gillespie and his new swinger Jonny Gillespie, Scott Ayto and Dylan Carnie picked up a single victory along with Luke Thwaites and Daniel Gillett, Shaun Kerr and Dallas Kelman were other heat winners that all made the semi final.

The Gillespie pairing won the third spot in the semis along side Humphrey / Franklin and Green / Breech which meant the left over riders from the semi finals had to battle it out in a winner goes through to the final, repecharge race, these two races were the highlights of the night with wheel to wheel racing for the entire four laps, there was paint traded, positions swapped but it was Harpur / George and Thwaites / Chalmers that won the races earning a place in the final.

The final once again showed the class of Humphrey / Franklin combination, they were quickest out of the gate and never looked like folding under the pressure taking out the Burt Munro Challenge but the minor placings were where the racing was, Green / Breech sat in second for the first couple of laps but the Gillespie pairing snuck through which left a gap for Thwaites / Chalmers and Harpur / George to take advantage of also, Green tried to fight back but to no avail, last years winner Gillespie settled for second and Thwaites / Chalmers third. It was a tough night for Southland team Kevin McDonald and Mark Hosie who just two weeks earlier won the Malcom Officer Memorial Sidecar event, the team showed how easy it was to go from penthouse to out house, by not finishing three races from three starts.

In the Burt Munro Solos you had to feel for Southland rider Grant Tregoning, the former National champion has raced for the last four weekends in a row all around the country and he came into this event carrying an injury to an A.C joint, however Tregoning looked good in the heats winning all three races but he was put under immense pressure from Christchurch's Dale Finch.

Brannon Coppard of Christchurch had a big crash in his first heat, not what the young rider would have been hoping for on his first visit to Oreti Park in over a year, he wasn't the only rider to succumb to the dirt with local rider Jeremy Godfrey showing some impressive aerobatic skills in early heats. Thanks to the airbags installed both riders came away uninjured.

The final of the solos consisted of Tregoning, Finch, Andy Aldridge, Kody Tocher and Jack Mcrae, it was Tregoning and Finch that battled into the first corner, Tregoning holding a slight advantage until the pair had slight contact sending Tregoning towards the wall where he never recovered, pulling to the infield and watching his Burt Munro title he claimed last year being taken away by Finch in a solid victory from Aldridge and Tocher rounding up a Christchurch trifecta.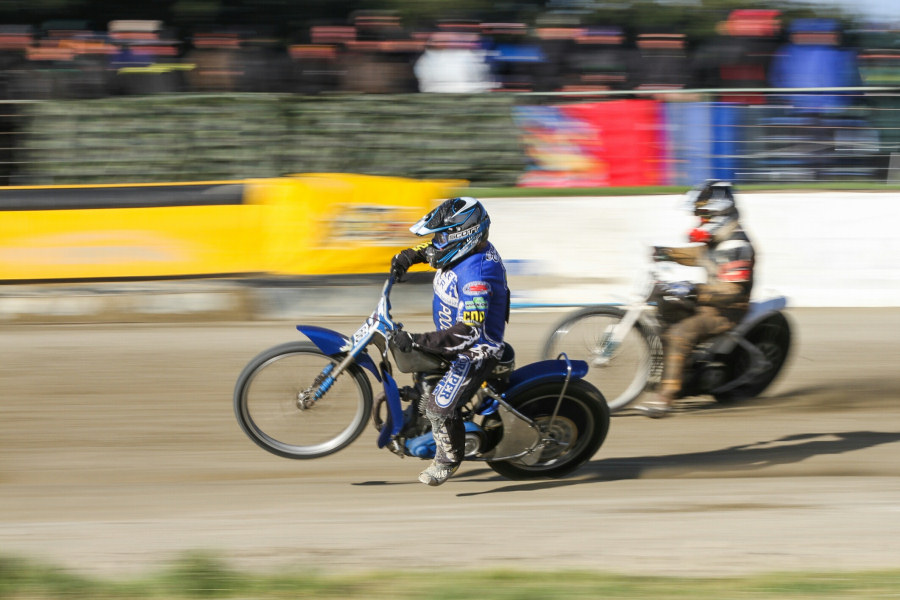 #66 John Tuffley adds the Burt Munro championship to his recent Southland Championship.
(photo credit to

Corey Varcoe Photography)

In Classic Solos it was Southland's John Tuffley who was all class, Tuffley was also backing up from riding in the main solo class and the extra track time certainly showed in the Classic Solos with a much deserved overall win from Kelvin Neutze and Greymouth's Kevin Ryan. Solo Support saw Andy Walker of Christchurch win over Southland youngster Jake Gillespie, 125cc Junior Solos was dominated by Sam Taylor who won all of his races and really looks to have really stepped up to the bigger, faster bike this year after competing the last couple of seasons in Pee Wees.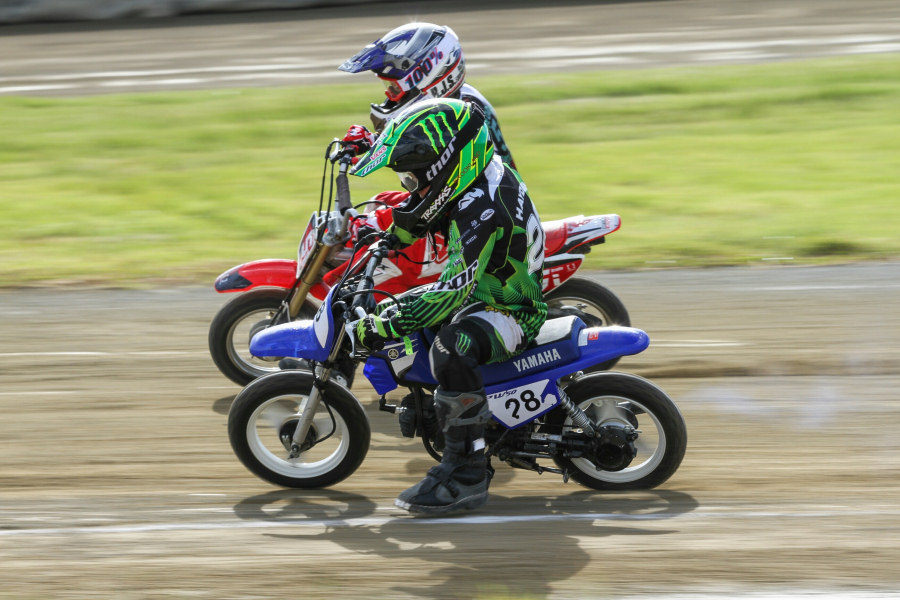 #28 Hayden Brookland was the winner of the Pee Wees. (photo credit to

Corey Varcoe Photography)

200cc Solos was dominated by the Harvey brothers of Christchurch with Zane Pay third, and in Pee Wees Hayden Brookland was just too good for the rest of the field claiming the title of Burt Munro Champion.
It is a short turn around for the club as they host the Ronnie Tree Sidecar Teams Challenge next Saturday night.