published 24-11-2014
Southland Sidecars Dominate Canterbury Championships
By Daryl Shuttleworth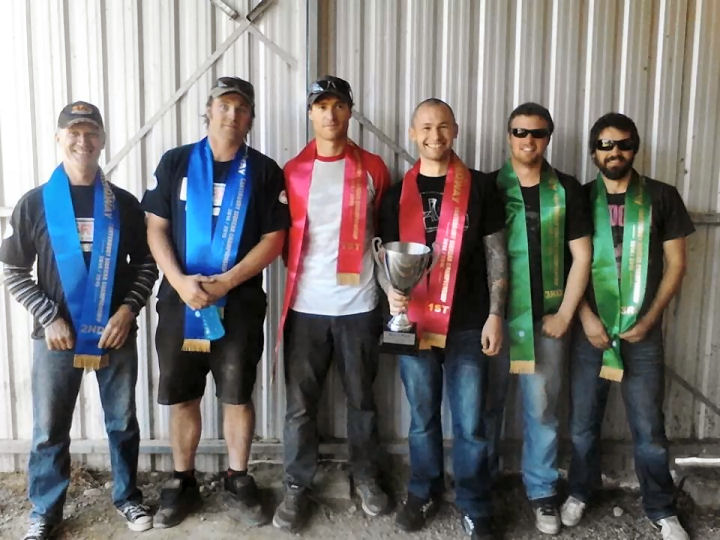 Photo from left
,
Nigel Cuckow / Erwin Tree 2nd, Robin Poole / Shaun Kerr 1st, James Douglas / Ricky Pubben 3rd

Oreti Park Speedway was well represented at last Sundays Canterbury Sidecar Championship with thirteen teams making the journey North to Christchurch,and they certainly made their presence felt with a dominant effort, claiming the top five spots in the championship.
The day started with the heat races and event favorite Lionel Green and Shane Breech of Christchurch were upstaged by Southland pairing Craig McMaster and James Dawson who went through the heats unbeaten and gain automatic entry into the semifinals. Three other Southland teams went through the heats unbeaten to also gain a semi final spot, James Douglas and Ricky Pubben, Shaun Kerr and Robin Poole and Aiden Thwaites and Shane Twiss all gained automatic entry as the Southern dominance continued throughout the event.
In the repÍchage to see who would join the Southlanders in the semi finals it was Erwin Tree and Nigel Cuckow of Invercargill who won convincingly and moved onto the semi finals, and in a last chance race it was the team consisting of Josh Wells and Lance Tulloch, both Southland born but travelled from Australia who won the right to make the finals.
As the semi finals were decided so too were the final four combinations who would take place in the grand final for the Canterbury Championship, and it was an all Southland final affair with Wells and Tulloch, Kerr and Poole, Tree and Cuckow and Douglas and Pubben who all lined up at the starting tapes. The race was red flagged early on as the pairing of Wells and Tulloch launched off the line but accidentally made contact with Kerr which caused a domino effect meaning a restart and Wells was eliminated from the final.
On the restart it was Tree who got the jump and lead early but both Kerr and Douglas kept the pressure on and Kerr managed to pass on the outside and claim the lead which is where he stayed for the remainder of the final to take out the Canterbury Championship from Tree and Douglas. Forth placing went to Wells and Tulloch while Bradley Sharp and Chris Chatfield placed fifth. The riders will be looking at repeating the dominating performance again this coming Saturday night as they return home to The Russell Cunningham Properties Oreti Park Speedway to contest the Burt Munro Speedway Spectacular against a record 38 entries.
Another Southlander also placed well at the event in Christchurch, teenager Hayden Sims who is back from a long off season recovering from injury claimed second place in the Solos, Sims has been in red hot form heading into the Burt Munro Weekend.