12-03-2010

King Tregoning wants his crown


The King of Oreti - Grant Tregoning PHOTO BY: SHELLEY CLARK
He's been dubbed the King of Oreti Park and speedway rider Grant Tregoning is aiming to add another crown to his vast collection at the Southland Championships on Saturday night.
For Tregoning and his legion of fans in the deep south, it will be his last appearance on home turf at Oreti Park Speedway this season – he's jetting off to the UK in a fortnight to take up a contract with the Newport team in Wales.
The professional ranks are a far cry from the New Zealand speedway scene and Tregoning is hoping for some strong challenges this weekend to aid his preparation.
"I've had quite a few close races at Oreti this season – I've been pushed pretty hard but that's what you need," he said.
"I'm looking forward to racing in the UK but it is completely different. Everyone is twice as quick. The tracks are smaller too so you have to adjust your riding style."
Focusing on retaining his Southland title, Tregoning predicts Christchurch's Andy Aldridge could prove his toughest opponent this weekend.
Christchurch youngster Anthony Knowles could prove the dark horse if he can maintain the critic-silencing form which earned him fourth overall at the New Zealand Solo Championships recently.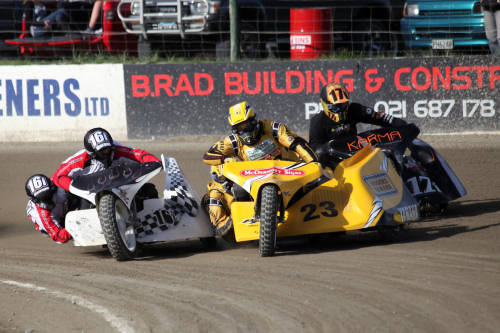 16i Jason Harpur & Mark George battling it out with 23i Kevin McDonald and Karl Hosie
ahead of 17i Scott Ayto and Josh Heenan. PHOTO BY: CORY VARCOE
The battle for Southland sidecar glory will see the defending champions go head-to-head this year.
With regular team-mate Kevin McDonald ruled out through injury, swinger Karl Hosie teamed up with Jason Harpur last year and it proved a winning combination.
But, with Hosie now back on-board with McDonald, good old-fashioned rivalry has returned with the pair, even joking about one taking the championship cup and one the lid.
Experience alone earns McDonald and Hosie the favourites tag but competition will be tough with two Christchurch combinations, Brent Tomkins and Paul Cunniffe and John Warwood and Laurie McMahon, venturing south.
Oreti Park president Fraser Gillespie is also in with a strong chance, despite enlisting a new swinger after a spill at the national fixture left regular team-mate David Uitentuis nursing a broken pelvis and compound fracture to his leg.
In the junior ranks, Connor Spriggs and Hayden Simms will be still buzzing after securing first and second respectively at the Canterbury Championships last weekend and should produce some tight contests in the quest for the Southland title.
With its competitive calender completed for the season, the Oreti Park club will host a Have a Go Day on March 27 for anyone keen to twist the throttle and experience the speedway thrill.