15-02-2010

New Zealand sidecar champion crowned
The newly crowned New Zealand Champion 97p Mike Zachan and Paul Humphrey (Palmerston North) lead the new 3NZ combination 61G Sefton Truuts & Calvin Foggarty (Gisborne) into turn 2 during heat 12 of the 2010 New Zealand
Sidecar Championships. (Photos by Shelley Clark)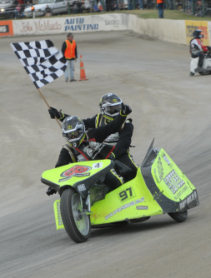 Speedway riders might be renowned for their tough exteriors, but being crowned national champion certainly brings out their softer side.
Palmerston North's Mike Zachan and swinger Paul Humphrey secured the Dig-It Earthmoving New Zealand Sidecar Championship at Oreti Park Speedway on Saturday night.
"I did get a bit emotional – I kept the goggles on until I got back to the pits," Zachan admitted. "It's a pretty big thing ... I've been racing since 1999 and this is my first 1NZ plate."
His skillful combination with Humphrey was impressive, despite being new this season.
"There was something special there straight away," Zachan said.
A last-minute decision to venture south paid off for the duo, who also won the North Island Championship last month.
"I told Paul we were effectively coming for second because of the Australian entry – they're one of the best teams in the world – but he was still keen," Zachan said.
"Turns out we just had to play our cards right ... and I had to keep my head."
Darrin Treloar and Justin Plaisted, of New South Wales, certainly lived up to their reputation. The former world champions dominated every race by an impressive margin and the New Zealand title looked destined to head across the Tasman.
However, when officials deemed the pair impeded another bike off the start during the fourth of five heats, they were promptly given their marching orders.
Despite winning their final heat, Treloar and Plaisted finished a frustrating one point behind Zachan and Humphrey in the overall standings and were left fuming about what they viewed as archaic rules.
"That's 1980's rules ... anywhere else in the world, you'd never even be stopped," swinger Plaisted said.
He lamented the $5500 spent on flights and transport of the bike, "let alone all the rest of it."
"We just love going racing – that's why it makes it so disappointing when you get a decision like that," Plaisted said.
Gisborne's Sefton Truuts and Calvin Foggarty placed third overall, with defending champions Les Plummer and Kervin Demanser forced to settle for 4th.
In the solo ranks, Oreti's Grant Tregoning proved unbeatable and claimed his fourth consecutive Brian Reed Memorial Trophy, ahead of Christchurch riders Andy Aldridge and Anthony Knowles respectively.
A shock omission from the main event, former 2NZ Russell Stuart and Andrew Parker, of Hastings, had a point to prove and easily won the non-qualifiers event, ahead of Oreti's Daniel Harpur and Nathan Phillips and Jamie Pocklington and Daniel Gillett.
Oreti's Noel Caufield took top honours in the Solo Classics event, while Hayden Sims won the Junior Solo.
Oreti Park Speedway will host the Calder Stewart Roofing New Zealand Solo Championship on Saturday, February 27, incorporating the Malcolm Officer Memorial Trophy for sidecars along with solo support, classic and junior events.
Results:
Dig-it Earthmoving New Zealand Sidecar Championship
1st #4 (97P) Mike Zachan & Paul Humphrey (3,3,2,2,3) 13 points
2nd #10 (84V) Darrin Treloar & Justin Plaisted (3,3,3,excls,3) 12 points
3rd #13 (61G) Sefton Truuts & Calvin Foggarty (2,2,1,3,3) 11 points
Brian Reed Memorial Trophy (Solos)
1st #5i Grant Tregoning (3,3,3,3,3) 15 points
2nd #23c Andy Aldridge (3,3,3,3,2) 14 points
3rd #73c Anthony Knowles (3,2,2,3,3) 13 points
Sidecar Non-qualifiers
1st #2NZ Russell Stuart & Andrew Parker 12 points
2nd equal #22i Daniel Harpur & Nathan Phillips 9 points
2nd equal #32i Jamie Pocklington & Daniel Gillett 9 points
Solo Classic
1st #6i Noel Caufield 11 points
2nd #18i Andre Hodge 5 points
3rd #69i Joe Hughes 3 points
Junior Solo
1st #10i Hayden Sims 9 points
2nd equal #6i Jake Gillespie & Adam Shuttleworth 7 points