published 05-01-2011

Spotlight onto Bike sections
Ruapuna Speedway officials are thrilled with the response from Sidecar competitors for this Saturday nights (January 8) South Island Sidecar Championship with eighteen entries received before the close off.
"This has to be an endorsement for the track that we are able to provide at the bikes only meetings" said club president Darren Nankivell, and he is confident that the Sidecars will be able to perform on the larger 400 metre track that will be used for the championship.

"We got rave reviews from the International sidecar competitors when they raced here last summer. They felt that the track was probably the fastest sidecar track in the country, and all we need is for the weather to play ball for us and its sure to be a great spectacle".

The Nelson pairing of Dallas Kelman and Adie Drake have decided against competing in the event, but that is hardly likely to detract from the calibre of competitors who will contest a series of qualifying races, before the top six pointscorers face off in three 'finals'.

Another Nelson pairing of Nigel Payton and Mike De Gray have been regulars at Ruapuna, and will be keen to better their second place that they earned at last years South Island Championship event, however a strong Ruapuna contingent spearheaded by the veterans John Warwood and Laurie McMahon will be hopeful to break the five year drought for Christchurch competitors.

The Elf Oils International Solo Series will also appear on the programme, with Jesper Kristiansen (Denmark), Daniel Nermark (Sweden) and Englishmen Jamie Courtney and Richie Hawkins likely to face stoic resistance from the Christchurch riders.
Nermark in particular has carved out a great reputation in recent seasons, and he was a rider in the 2010 Sweden side in the World Team Cup.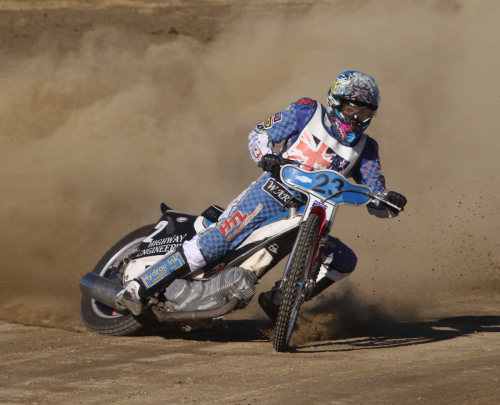 Top local Solo Andrew Aldridge will face a stern challenge from the International riders at Equus Ruapuna Speedway this Saturday night. (Photo by Brian Hopping)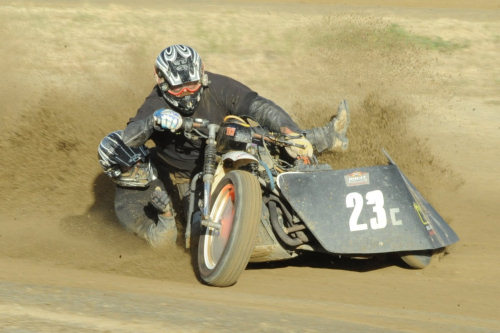 Christchurch Sidecar Competitors Brent Tomkins and his passenger Paul Cunniffe in recent action at Ruapuna.
further details www.ruapunaspeedway.co.nz